The Rehabilitation Department at Starr Regional Medical Center serves patients in both the hospital and outpatient settings, as well as patients of Starr Regional Health & Rehabilitation, our skilled nursing and long-term care facility. We offer physical, occupational and speech therapies, conveniently located in both Athens and Etowah.
Next Steps
Contact Athens
425 Old Riceville Road #1
Athens, Tennessee 37303
(423) 744-0002
Fax: (423) 745-8727
Contact Etowah
886 Highway 411 North
Etowah, Tennessee 37331
(423) 263-3679
Fax: (423) 263-6157
Treatment Programs
Treatment programs are available for patients with a variety of diagnoses, including specialized treatments such as aquatic therapy, dry needling, Instrument Aided Soft Tissue Mobilization (IASTM), Lee Silverman Voice Treatment LOUD program (LVST LOUD), VitalStim and light/laser therapy. Patients are seen for evaluation and treatment following physician referral.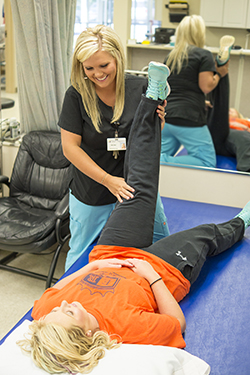 Physical Therapy helps individuals develop, maintain and restore maximum body movement and physical function. Physical therapy focuses on gross motor function to help patients recover from an injury, relieve pain, prevent future injury or deal with a chronic condition. Physical therapy is benficial to patients of all ages.
Occupational Therapy provides treatment to assist patients in developing and improving fine motor and cognitive skills needed to perform tasks that promote functionality and independence in everyday life activities at home, school, work, community, and other settings. Occupational Therapy helps people of all ages do the things they want and need to do.
Speech Therapy assists patients with speech, language and feeding disorders to improve communication and swallowing function. Speech therapy is often needed for disorders that develop in childhood or impairments in adults caused by an injury or illness.
Conditions we treat:
Our team serves a wide range of needs and provides treatment plans for multiple conditions and injuries including:
Chronic/acute pain, especially back and neck pain
Neurological rehabilitation
Acute orthopedic conditions
Post-orthopedic surgery
Work conditioning
Physical Work Performance Evaluation (PWPE)
Hand rehabilitation
Pediatric developmental delay or Sensory Integrative Dysfunction
Swallowing difficulties
Communication disorders
Referral and Evaluation Procedures
Physician referral is required for all services offered by the Starr Regional Rehabilitation Department. Please consult with your physician to determine if therapy is the best option for you. After you receive a physician referral, you may call or come in to schedule your first appointment, which includes registration and evaluation. Prior to your evaluation, we will contact your insurance company for pre-certification and coverage information, if this has not been completed by your doctor. Starr Regional Rehabilitation Department accepts a majority of insurance plans as well as Medicare and TennCare.
Your registration and evaluation appointment will last approximately 60 to 90 minutes. During this time, a therapist will gather all information needed to analyze the problems you are experiencing and create a personalized treatment program.
What to bring to your first visit:
Insurance cards
List of medications
Prescription/referral for rehabilitation services
Medical Summary Form and Medication Form, found below (optional)
Clothing that is loose fitting in the area to be treated
Aquatic Therapy patients: appropriate pool attire (swimsuit or shorts and colored t-shirt); pool shoes (optional);
shower toiletries (optional)
To facilitate your first visit, two required forms are included below. If possible, please print the forms, complete the requested information and bring the forms with you to your first appointment.
Therapy Spotlight: Aquatics Therapy Program
The Athens campus of the Rehabilitation Department offers the only aquatic therapy pool in the community. Water supports the body, reduces joint stress, and provides resistance and assistance to movement. Patients who have limitations, including the ability to bear weight and participate in other forms of therapy, can rapidly improve mobility, strength, and function with aquatic therapy.