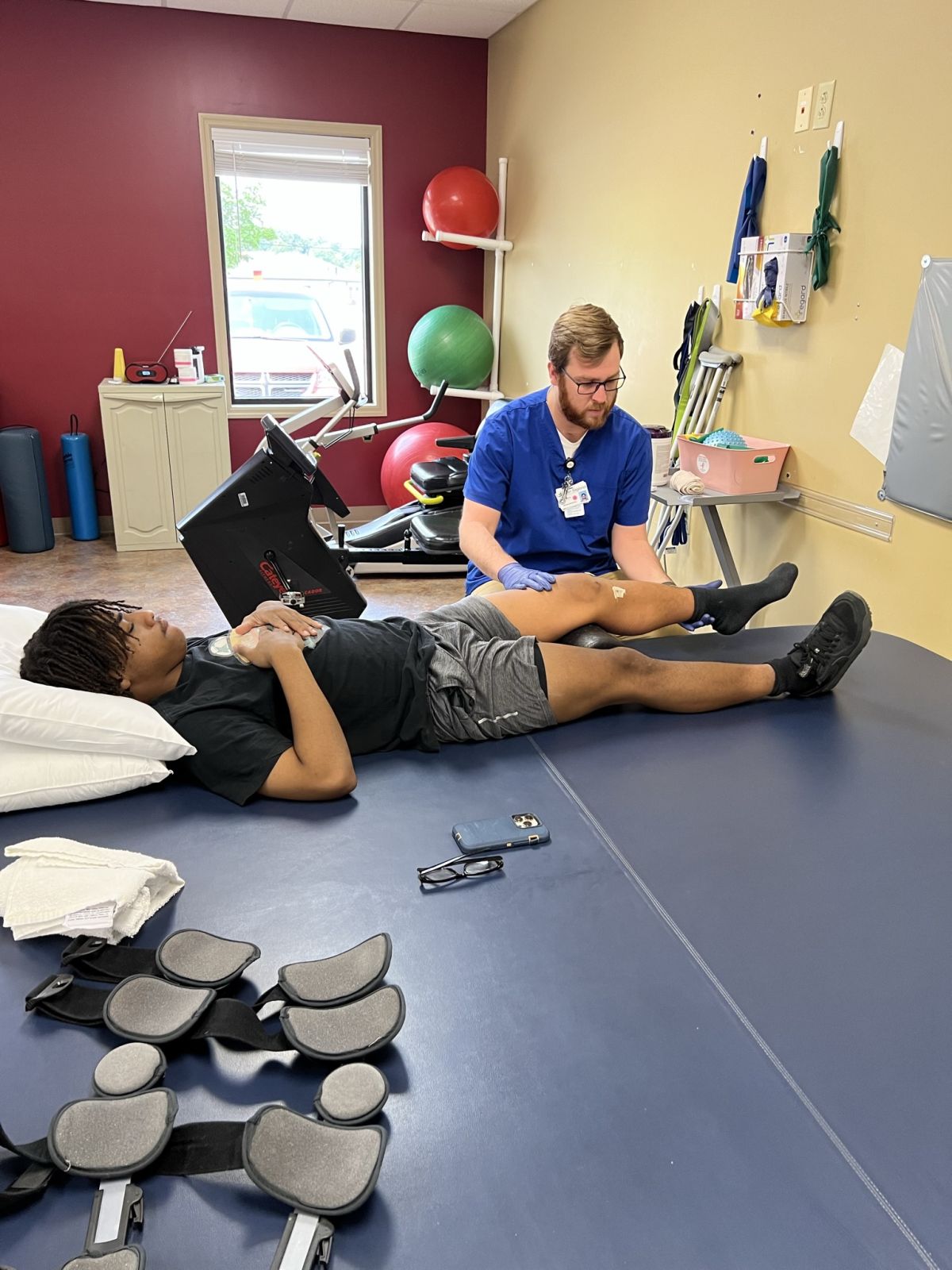 The Rehabilitation Services department at Starr Regional Medical Center serves patients in both the hospital and outpatient settings, as well as patients of Starr Regional Health & Rehabilitation, our skilled nursing and long-term care facility. We offer physical, occupational and speech therapies and sports medicine services, conveniently located in both Athens and Etowah.
Locations
Athens: 425 Old Riceville Road #1, Athens, TN 37303
Etowah: 886 Highway 411 North, Etowah, TN 37331
Treatment Programs
Treatment programs are available for patients with a variety of diagnoses, including specialized treatments such as:
Aquatic therapy
Dry needling
Instrument Aided Soft Tissue Mobilization (IASTM)
Lee Silverman Voice Treatment LOUD program (LSVT LOUD)
VitalStim
Light/laser therapy
Patients are seen for evaluation and treatment following physician referral.
Next Steps
Pre-Register Online
Once you've received a referral from your provider, pre-register for your visit using a link below. A staff member will contact you to schedule your first appointment.
Athens Clinic Pre-Registration
Patient Testimonial: Pam Breedwell
In May 2020, Pam Breedwell suffered three strokes. Following inpatient stays at a regional hospital and rehabilitation facility, she was referred to Starr Regional Rehabilitation Services for outpatient therapy.
"Starr Regional Rehab worked on memory, mobility, muscle weakness and strength. I had PT, speech therapy and OT for many weeks," said Pam. "My goals were met thanks to Starr."
Pam now volunteers to share her personal experience on the steps to stroke recovery, including how Starr Regional Rehabilitation Services helped her reach her goals of becoming more independent and wearing high heels again.
"It took me two years to drive and two years to get in my heels, but I did it," she said.
If you have suffered a stroke or other neurological condition, Starr Regional Rehabilitation Services offers specialized treatment programs, in addition to physical, occupational and speech therapies, to help you improve your quality of life and get back to the activities you enjoy.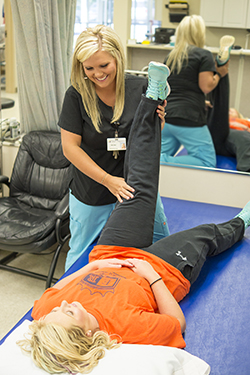 Physical Therapy helps individuals develop, maintain and restore maximum body movement and physical function. Physical therapy focuses on gross motor function to help patients recover from an injury, relieve pain, prevent future injury or deal with a chronic condition. Physical therapy is benficial to patients of all ages.
Occupational Therapy provides treatment to assist patients in developing and improving fine motor and cognitive skills needed to perform tasks that promote functionality and independence in everyday life activities at home, school, work, community, and other settings. Occupational Therapy helps people of all ages do the things they want and need to do.
Speech Therapy assists patients with speech, language and feeding disorders to improve communication and swallowing function. Speech therapy is often needed for disorders that develop in childhood or impairments in adults caused by an injury or illness.
Certified Athletic Trainers work with local high school athletes and patients to provide preventative care and emergency response, as well as coordinate rehabilitation services, when they receive an injury during an athletic activity.
Rehabilitation Services
Our team serves a wide range of needs and provides treatment plans for multiple conditions and injuries to help get you back to an active life, including:
Chronic/acute pain, especially back and neck pain
Total joint replacement
Rotator cuff repair
ACL, Meniscus repairs
Neurological rehabilitation
Acute orthopedic conditions
Post-orthopedic surgery
Work conditioning
Physical Work Performance Evaluation (PWPE)
Hand rehabilitation
Pediatric developmental delay or Sensory Integrative Dysfunction
Swallowing difficulties
Communication disorders
Vestibular rehab
Therapy Spotlight: Aquatics Therapy Program
The Athens campus of the Rehabilitation Department offers the only aquatic therapy pool in the community. Water supports the body, reduces joint stress, and provides resistance and assistance to movement. Patients who have limitations, including the ability to bear weight and participate in other forms of therapy, can rapidly improve mobility, strength, and function with aquatic therapy.