Cardiac Rehab is Good For the Heart
Meet Lea Anna Moore
In April 2022, Lea Anna Moore underwent cardiac catheterization on a Wednesday and had triple bypass surgery on Friday at a hospital in Nashville, Tenn.
Following her recovery, Lea Anna, who lives in Spring City, Tenn., was referred to the Cardiac Rehabilitation program at Starr Regional Medical Center.
"Before my heart surgery, I had not stayed in a hospital overnight for any type of procedure and participating in cardiac rehab made me nervous; it's not something I'm familiar with," said Lea Anna. "My first day at cardiac rehab I was so nervous. I really didn't know how scared I was until they checked my blood pressure and it was higher than normal. Immediately the staff helped to calm me down and put me at ease. The program has been a really good experience for me and I have nothing but good things to say about everyone there."
Moore recently completed the rehab program recommended by her healthcare provider and is now continuing to participate in the Maintenance Program, which allows her to continue participating in regular exercise that is supervised by the rehab staff. She also receives regular blood pressure checks, evaluations and heart rate monitoring.
"I don't have to go to rehab. I could do the exercises in my home, but I'm choosing to go because the staff makes me feel so comfortable and confident, and they are always there to answer my questions. I don't work outside of my home, so it is a great opportunity for me to socialize, too."
Know the Warning Signs of a Heart Attack
---
Meet Ron Wright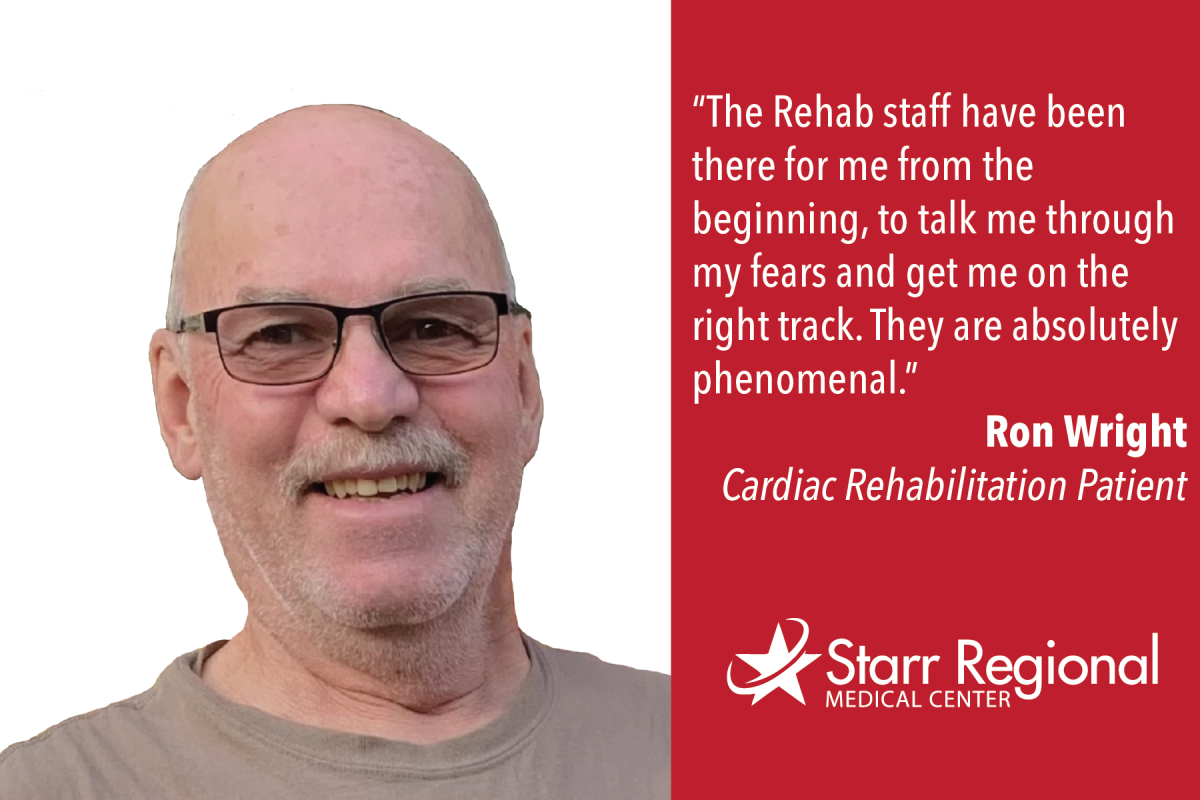 Ron Wright began the Cardiac Rehabilitation program at Starr Regional Medical Center following two heart attacks. The program has been a great resource for him physically, mentally and emotionally.
"The cardiac rehab program has been extremely beneficial for me," said Ron. "I suffered from PTSD following my second heart attack. The rehab staff have been there from the beginning to talk me through my fears and get me on the right track. They are absolutely phenomenal."
"For me, one of the best things about rehab is the friendships. We are all there for the same reason, so we support one another. We care for one another; we're like a big family."
Ron completed the rehab program and has continued on the maintenance program for more than a year. "You don't realize how much the program is really helping until you have to miss for a bit," he said. "I have noticed that it has helped me to regain my strength. I always try to challenge myself and do a bit more, but I recently had to miss a few sessions and noticed when I returned that I couldn't do as much as I had been doing. I'm glad this program is here in Athens. It really has helped me so much."
The Cardiac Rehab program at Starr Regional Medical Center serves patients who have had a heart attack, heart surgery or other forms of cardiovascular disease by focusing on reducing specific risk factors and improving the patient's overall health. The program offers individualized, exercise-based rehabilitation tailored to each patient's specific needs. Click the link to learn more about the Starr Regional Cardiac Rehabilitation Program or call 423.744.3321.