Starr Regional Medical Center Honors Employees for Years of Service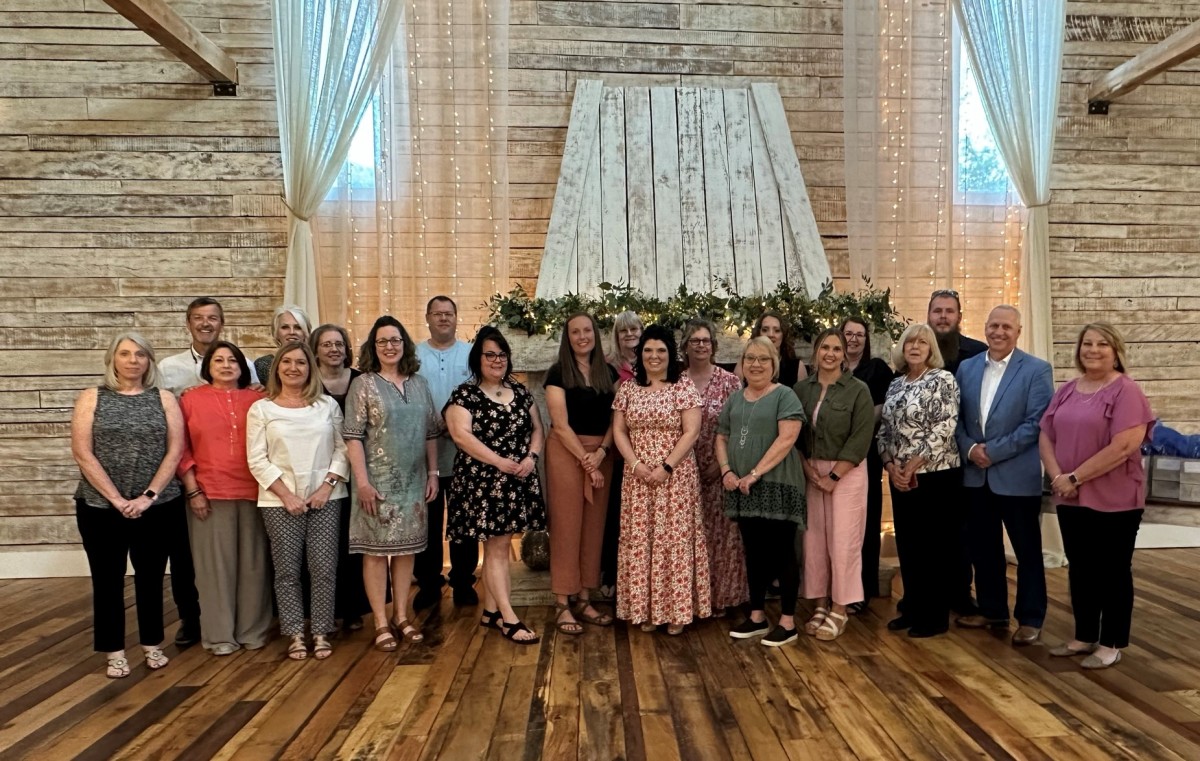 Starr Regional Medical Center recently hosted its annual service awards banquet to honor employees who achieved 5 years or more of service (in 5-year increments) between January 1 and December 31, 2022, as well as employees who received recognition throughout the year as winners of the 2022 Mercy Award, The DAISY Award, and Shining Starr Award.
"It is an honor to recognize and celebrate our employees for their commitment to serving others through a career in healthcare. From clinical to administrative staff, each employee plays an important role in enhancing our mission of making communities healthier®," said John McLain, Starr Regional Medical Center Chief Executive Officer. "Our vision is to create places where people choose to come for healthcare, physicians and providers want to practice, and employees want to work. Our mission and vision strengthen our facilities' culture, which I believe is the reason we have the opportunity to celebrate such a large number of dedicated employees for service ranging from five to 45 years every year."
Employees honored for their years of service at this year's event and their respective departments include:
45 Years
Teddie Hambaugh, Emergency Room
35 Years
Susan Hicks, IT & S
Susie Knox, Medical & Surgical Unit
Kathy Waller, Laboratory
30 Years
Wendi Peels, Business Office
Frances Plumley, Intensive Care Unit
25 Years
Teresa Cain, Cardiopulmonary Unit
Patti Horne, Risk Management
Jessica McCarter, Nursery Unit
Kimberly Powers, Emergency Room
20 Years
Tammy Averett, Health Information Management
Rose Blevins, Pharmacy
Ann Hacker, Accounting
Trina Ingram, Senior Care
Cynthia King, Athens Surgery Center
Michael Mullinax, Outpatient Surgery
Debbie Valadez, Starr Regional Family Practice
15 Years
Cayci Breeden, Intensive Care Unit
Chris Cooper, Security
Joyce Daniels, Patient Education & Outreach
Gina Davis, Central Sterile Processing
Robin Duckett, Athens Surgery Center
Carrie Hensley, Breast Center
Leslie Sharp, Medical & Surgical Unit
Ruth Timm, Materials Management
10 Years
Jodie Harrill, Patient Billing
Rebecca Mahery, IT & S
Leslie Mitchum, Athens Surgery Center
Jennifer Moses, Human Resources
Terrie Ruff, Senior Care
Whitney Saffles, Outpatient Rehabilitation
Mitchell Stinnett, Medical & Surgical Unit
5 Years
Wendy Jo Allmon, Athens Family Practice
Shane Bailey, Plant Operations
Patricia Bare, Starr Regional Health & Rehabilitation
Carrie Byrum, Starr Regional Health & Rehabilitation
Timothy Collins, MD, Starr Regional Family Practice
Amanda Croft, Athens Family Practice
April Elkins, Labor & Delivery
Dorothy Frost, Medical Associates of Athens
Special recognition was also given for recipients of the following awards: 2022 Mercy Award winner Hollie Baker, Case Management; 2022 DAISY Award recipient Abigail Newberry, RN, nursing supervisor; and 2022 Shining Starr winners Hollie Baker, Case Management; Tonya Debuty, Wound Care Center; Lorinda Madden, Environmental Services; and Megan Webster, Starr Regional Health & Rehabilitation.
Starr Regional Medical Center is one of the largest employers in McMinn County. The two-hospital system offers excellent opportunities for healthcare professionals, both clinical and non-clinical, to utilize their skills in an environment that values quality care and job satisfaction yet recognizes individual talents and abilities. For more information about career opportunities at Starr Regional Medical Center and its affiliated physician practices, visit our Careers page.
Read All Posts