Starr Regional Medical Center recognizes Jessica Felker as DAISY Award Recipient
Starr Regional Medical Center announced today that Jessica Felker, BSN, RN, CIC, has been named the recipient of The DAISY Award for the first quarter of 2021. The DAISY Award for Extraordinary Nurses is a recognition program honoring "the super-human work nurses do for patients and families every day." Nominations for the award may be submitted by anyone who experiences or observes extraordinary, compassionate care being provided by a nurse.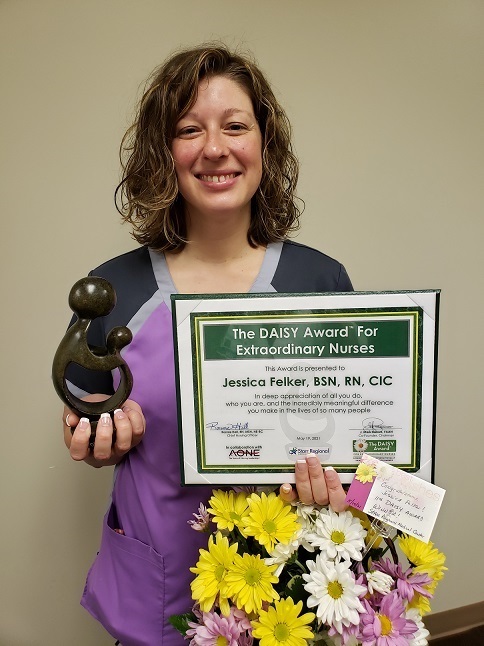 "The COVID-19 pandemic has made us all aware of the heroic efforts of our nursing staff, who are always on the front lines caring for the sick and injured at Starr Regional Medical Center," said Ronald Hall, Chief Nursing Officer at Starr Regional Medical Center. "While it was difficult to select just one nurse to honor with The DAISY Award, I am extremely proud to recognize Jessica Felker for her dedicated efforts in her role as Infection Preventionist and Employee Health Nurse at Starr Regional."
Felker's nomination for the award highlighted her leadership as Infection Preventionist to assimilate the best, safe practices for preventing spread of the pandemic and providing tireless support and information needed to alter practices in a quickly evolving environment. The pandemic also increased the number of responsibilities related to Felker's role as employee health nurse, which she completed with grace and compassion.
Felker joined Starr Regional Medical Center as a staff nurse in 2015 and assumed her role as Infection Preventionist and Employee Health Nurse in August 2018. In 2021, Felker earned the Certification in Infection Prevention and Control, or CIC®, credential. She lives in Delano with her husband and two children.
The DAISY Award honorees are selected by a committee of nurses at Starr Regional Medical Center who thoroughly review and consider each nomination. The presentation of the award is a surprise and takes place in front of the nurse's colleagues, patients, and visitors. Each honoree receives a certificate commending her or him for being an "Extraordinary Nurse." The certificate reads: "In deep appreciation of all you do, who you are, and the incredibly meaningful difference you make in the lives of so many people." Honorees are also given a sculpture called "A Healer's Touch," which is hand-carved by artists of the Shona Tribe in Africa.
The not-for-profit DAISY Foundation, based in Glen Ellen, Calif., was established by family members in memory of J. Patrick Barnes, who died at the age of 33 in late 1999 from complications of Idiopathic Thrombocytopenic Purpura (ITP), a little-known but not uncommon auto-immune disease. The care Barnes and his family received from nurses while he was ill inspired this unique means of thanking nurses for making a profound difference in the lives of their patients and patient families. For more information about the DAISY Foundation, visit DAISYFoundation.org.
If you would like to nominate a nurse for the DAISY Award, forms are available in the hospital common areas as well as the nursing units on Starr Regional Medical Center's Athens and Etowah campuses. Nomination forms may also be found online at StarrRegional.com. The DAISY Award program is open to nurses only, such as LPNs, RNs, and nurse practitioners. If non-nurses receive a nomination, they will be recognized separately from The DAISY Award program.
Read All Posts