Tullock, three others honored during Etowah Chamber banquet Tuesday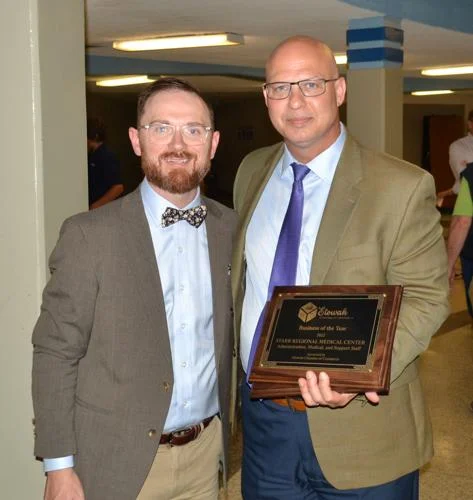 This was the first such event held in several years due to the COVID-19 pandemic, making this the 58th iteration.
The event featured comic Rik Roberts and a live auction hosted by John Forgety and was capped off by the announcement of four awards.
The Cornerstone Lifetime Achievement Award closed out the program, as it was awarded to Durant Tullock, former chamber director among his many titles.
Tullock passed away on Sept. 25, 2021 and members of his family were on hand to accept the award.
Speaking in honor of Tullock were Starr Regional Medical Center CEO John McLain and McMinn County Mayor John Gentry.
Before they spoke, Chamber Director Frank Clark noted that Tullock is the only person in Etowah history to serve in five capacities with the Etowah Chamber — president, director, board member, business owner and R. Frank McKinney Distinguished Service Award winner.
No one else, according to Clark, has accomplished more than three roles.
"He was one of the first people who met me at the door for an interview," McLain, who became SRMC CEO in 2019, said of Tullock. "He was just a wonderful person. He was a person who stood by me and paved my way into the community."
McLain also noted the importance of winning the Cornerstone award.
"The cornerstone is that specially chosen stone that locks in the community," he said. "That's what Durant did."
Gentry then read a letter on behalf of Tullock's three sons — Brandon, Alex and Nick.
"We are proud to accept this award on behalf of our dad," Gentry read, noting that they listed the lessons they learned from Tullock.
The first lesson was "make every single person feel special."
They noted that Tullock stressed to them that they should "always look for a way to make the community stronger" and "remember something important about everyone."
The second lesson they recalled was to "think locally, act locally."
They noted in the letter that Tullock was always promoting Etowah and thinking of ways to get its name out.
"He refused to let it disappear on anyone's map," they recalled. "This was the most important lesson Dad could have ever taught us."
The final lesson they noted was "don't forget your roots."
"Dad was as Etowah as they come," the letter read. "Etowah was dad's life."
Three other awards were given out during Tuesday's event and the one that opened that portion was the R. Frank McKinney Distinguished Service Award, sponsored by The Daily Post-Athenian.
DPA Publisher Jeff Schumacher announced McMinn County School Board member Bill Irvin as this year's winner.
Schumacher noted that Irvin is a "long-time servant of the Etowah community and McMinn County as a whole."
Among his activities, Irvin, along with others, has run the Etowah Youth Basketball League for more than 20 years.
"He has impacted the well-being of many children who have come up through the league and has given them a place to learn and develop work ethic toward individual and team experience on the basketball court, regardless of their skill level, social status or family situation," Schumacher said. "He has been creative in making sure that any child who wanted to participate was able to do so."
Schumacher added that Irvin has "proven both commitment to the community and personal integrity in his years of public service, both to the community at large and the people who matter the most — his family."
The second award given out was the Joe Quirk District Educator of the Year award, sponsored by Tennessee Wesleyan University.
TWU's Blake McCaslin announced that Joyce Simpson, a 34-year art teacher at McMinn Central High School, was this year's recipient.
Among her accomplishments were being the coordinator for the Roane State Academic Festival, member of the McMinn County Education Association and named a Distinguished Classroom Teacher by the group twice, a department head at CHS, and a member of the Renaissance Committee.
Simpson and her students also painted murals on the walls of Central and several other schools and provided numerous stage backdrops for theater programs.
She has also served on the board of the Etowah Arts Commission and is a former president of the Community Artists League.
Simpson also served in the U.S. Army for six years and in the Tennessee National Guard for 26. During her time, she was deployed in Desert Storm in 1990 and for two years during Operation Iraqi Freedom beginning in 2005.
She retired from that as Chief Warrant Officer IV.
"I'm honored to receive this award," Simpson said. "I loved and respected Mr. Quirk."
The final award was the Business Person of the Year award and Clark said they were doing it a bit differently this year after more than two years of the COVID-19 pandemic.
"You look at every small business and think every small business deserves an award just for making it without shutting down," Clark said.
However, every business couldn't receive an award.
"We began to think of people who, their praises were sung at first but they're not always sung today and yet they're still going to work every single day," he said. "They are the people who were sleeping in their garages away from their children, they were in tents in their backyard so their kids and family didn't get sick."
With that, he awarded Business of the Year to Starr Regional Medical Center's administration, medical team and support staff. McLain accepted the award on their behalf.
"This is the staff that carried the hospital on their shoulders," McLain said. "I could not be more grateful. They stayed the entire time, shifting with the rules changes that were occurring. Thank you very much on behalf of the staff."
Read All Posts